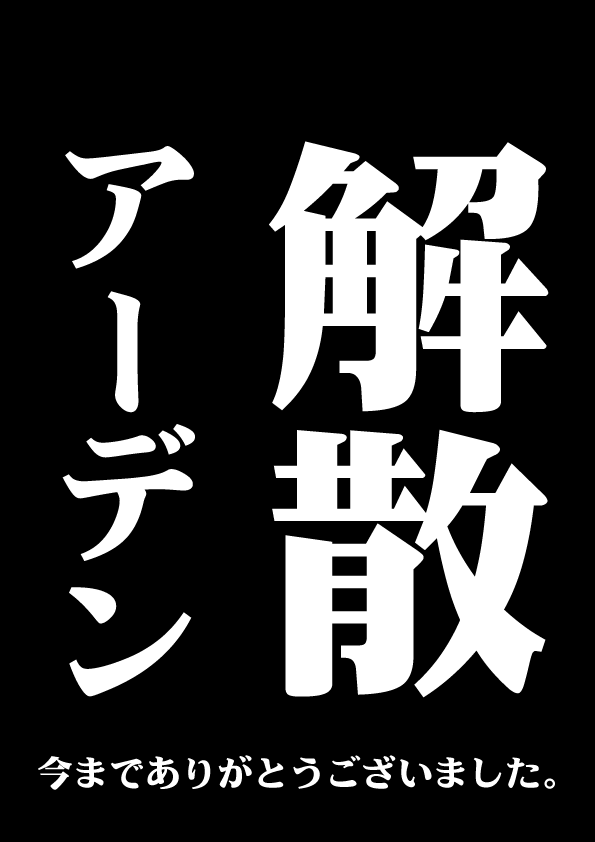 ARDENは2020年12月30日をもって解散いたしました。
メンバーそれぞれが前に進むために、一旦区切りをつける事と致しました。
私たちの作品を購入していただいたりライブ会場へ足をお運びいただいて応援をしていただいた皆様、音楽業界関係者皆様、ライブハウス皆様、バンド皆様、デザイナー皆様、サポートミュージシャン皆様、旧メンバーの皆様、そして私たちのすべての友人と家族の皆様、今までありがとうございました。心よりお礼を申し上げます。
新型コロナウイルス感染症の世界的な流行で不安な日々が続きますが、皆様の安全と健康を祈念するばかりでございます。いつかまたどこかでお会いしましょう。
ARDEN was disbanded on December 30, 2020.
In order for each member to move forward on a new path, we have decided to make a break.
Everyone who bought our works or visited the live venue to supported us, music industry people, live houses, bands, designers, support-musicians, old members, and all of our friends and family, we would like to thank you from the bottom of our heart.
The pandemic of COVID-19 continues to cause anxiety, but we pray for the safety and health of everyone. Be seeing you someday again.
ARDEN
Vocal: Gaku Website / Twitter / Instagram
Guitar: Tacky Blog / Twitter / Instagram
Drums: U-Z SoundCloud / Twitter / Instagram